"Embrace disruption and change early. Don't react to it decades later. You can't fight innovation." – Ryan Kavanaugh, film producer and financier
There are many examples of existing industries that have been disrupted to such an extent that incumbents are left flailing as collateral damage. Look for a Blockbuster Video, a Tower Records, a Borders Books, or Circuit City these days and you'll struggle. The wreckage is clear.
We live in a consumer-first era where everything from restaurant delivery (Seamless) to shopping (Amazon) to transportation (Uber) is subject to a choosy and fickle class of consumers.
Disruption in the Fitness Industry
As I've immersed myself more and more in the fitness world, I've realized it's very ripe for disruption on several counts. We have introduced Core Flytes to dramatically change the way we exercise: spend less time, do it where you want and when you want, add fun and creativity, limit stress on your joints, and engage more muscles.
Consumers are often looking for variety, convenience, motivation, and new information when it comes to fitness. Both gyms and trainers are competing for clients, not only with others in their industry, but also with companies that provide home workouts streaming on demand and apps on smartphones. Fitness consumers are empowered and are firmly in control.
The ClassPass Phenomenon
ClassPass (and similar companies) have enabled gym-goers to gain even more leverage. For those unfamiliar, ClassPass offers their members access to a long list of group fitness classes at a long list of gyms. For a fixed monthly price, you can check out the cool spin class one night and the fun dance class the next morning. With the emergence of boutique, highly-specialized studios over the last decade, ClassPass provides the ability to try out the latest craze without a long-term commitment or a steep per-class price.
Instead of paying gyms a membership fee or for a one-off class, ClassPass members pay a monthly fee ranging from $79 in Nashville to $125 in New York. In return, they get access to unlimited fitness classes at local gyms in the ClassPass network. The only exception is a three-class cap preventing members from cherry-picking the most popular gyms by limiting attendance to a specific health club to three times each month.
ClassPass is basically the gym industry's version of Groupon: an aggregator (middle man) is facilitating class sign up and taking a healthy cut of the revenues. As a result, participants pay less and have more variety, while gym memberships are less sticky. Just like those who cut the cable cord because they stream content online, many opt for ClassPass in lieu of a gym membership. It's all about access to service and empowered consumer choice.
Our Experience With ClassPass
Everlast Lab, the first gym managed by iconic boxing brand Everlast Worldwide in Hoboken, NJ, participates in ClassPass. As a relatively new gym, ClassPass can serve as a mechanism for bringing in new potential clients. The most popular class at the Everlast Lab, according to CEO Neil Morton, is their Core Flyte class that takes place on Tuesday and Thursday nights. This fact, of course, makes me very happy. ClassPass helps facilitate exposure to our awesome Core Flyte classes… and participants love it. Companies like ours, which are in the process of brand-building, benefit from ClassPass because it enables more and more people to be exposed to our products without putting a dent in our bottom line. We've had several folks from Everlast Lab decide to purchase Core Flytes after participating in the Core Flyte class.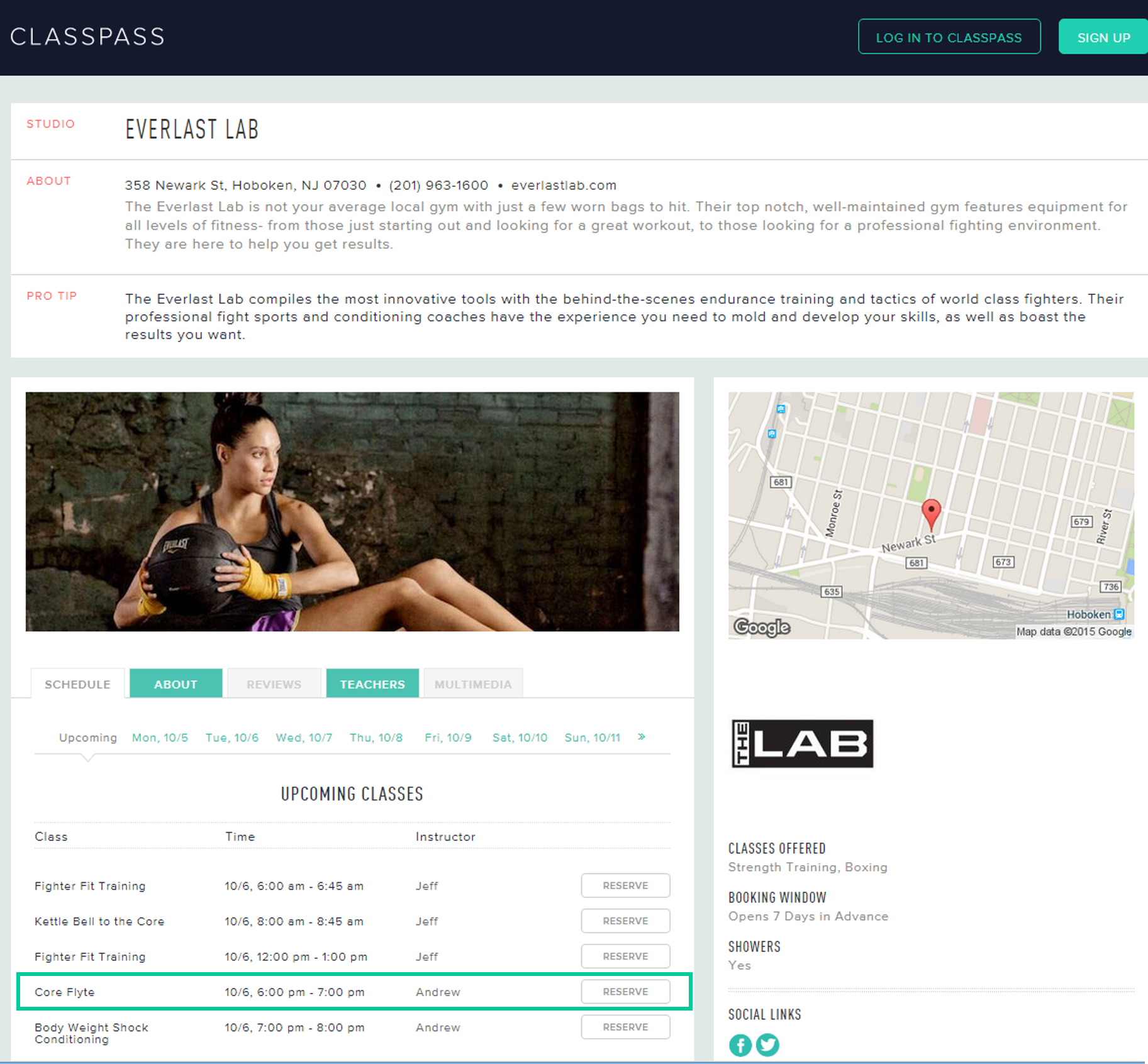 The Business Model: Winners and Losers
Nearly three years old, ClassPass boasts access to thousands of studios in its network in the U.S. alone. Like the Groupon model, customers get a discounted rate (3-4 studio classes in New York City would cost more than the monthly ClassPass fee) and gyms end up with significantly lower revenue per class (lower net class prices and capture about half of the revenue). The hope (bet) for gyms is that once ClassPass members try their awesome classes, they'll sign up as full-time gym members. Like retailers working with Groupon, this conversion from trial to member does not seem to be happening for studios.
The Importance of a Network Effect and Inevitability of Industry Disruption
Unlike the Groupon retailers who often learn from failed trials, gyms are subject to a massive network effect. If everyone is looking for group fitness experiences on ClassPass, you'd want the gym you manage to participate, right? Just like stores are listed on Yelp, restaurants are listed on Open Table, and manufacturers (including us) are listed on Amazon. The ecosystem is up and gyms feel pressure to be included. It's the same reason you're likely on Facebook: everyone else in your social circles (give or take) is on it. Network effects are very hard to create, thus once a company has established one it is very difficult for it to be dismantled.
Even if ClassPass ends up losing out to one of its competitors (e.g., MoveUSA, ClassHopper, etc.) who are essentially doing the same thing, it's very likely that gyms are in the process of losing control over their members. The reality for most gyms, however, is that the bulk of their revenue does not come from active people looking to try new classes frequently, but rather from those who sign up for gym membership and rarely set foot in the gym (the grand majority). So, the types of health clubs most at risk to the ClassPass phenomenon are smaller boutiques that appeal to passionately-fit individuals.
While the long-term effects of ClassPass and its rivals are unknown, the company's success points to wavering loyalty for both gyms and specialty group fitness instructors that cannot be ignored.
We'd love to hear from you. How have you used ClassPass as a gym or a member? What are your thoughts on the service and how it may impact the fitness industry? Comment below or on our Facebook page at facebook.com/flytefitness, or tweet us at @flytefitness.
Be Flyte Fit,
Jeremy Greenberg
Co-Founder & CEO
Flyte Fitness
P.S. DON'T FORGET TO SIGN UP FOR FITNESS UPDATES! CLICK THE BOX AT THE TOP OF THIS PAGE!