The average career for NFL players is astonishingly short: 3.3 years overall and 4.9 years for kickers and punters. It's easy for those of us watching professional football players on TV, in a stadium, or through the lens of fantasy football points to miss the fact that these well-trained athletes are human. We put them on a pedestal when they succeed and we trash them when they don't perform well.
March, I met John Carney while I was working out with our Flyte Fitness partner Steve Weatherford in Southern California at John's gym, Carney Training Facility. John and Steve were using Core Flyte stability trainers to train themselves, their NFL friends, and John's clients. My first impression of John was that he is incredibly humble, very knowledgeable in exercise techniques, and open-minded with a thirst for learning and improving.
John Carney, now 51 years young, has a lot to be proud of. He is one of the most celebrated kickers in NFL history. He has 2,062 points scored (fifth in NFL history), played 23 seasons in the NFL, is one of two NFL players in history with four decades of active play, and was the oldest ever to play in a Pro Bowl at age 44.
Last week, John and I spoke about his NFL experience, his training program for kickers and punters, and his philosophy on fitness and longevity.
An Unlikely Road to the NFL
Growing up in Palm Beach, Florida, John loved soccer and played on his high school's soccer team. Despite his passion for soccer, football was calling him. John recalled, "If you were a male at our high school, it was expected that you would try out for the team." He initially tried out as a wide receiver, but felt that his soccer experience plus "a little bit of work" would get him on the field as a kicker and a punter.
John went to a kicking camp in Fort Lauderdale led by NFL kicking star Garo Yepremian. He made the junior varsity team as a kicker and a punter his sophomore year. Then, he played on the varsity squad his junior and senior years.
And that's where his football career nearly ended. John said, "I never really planned on playing football after high school. I wanted to play collegiate soccer, but I didn't receive a lot of phone calls for soccer."
John walked on to the football team at Notre Dame, which was his father's favorite school. Notre Dame had then, and still has now, one of the most competitive and storied programs in all of college football. John followed fellow high school teammate Alonzo Jefferson, Florida's all-time leading rusher at the time, to the Golden Dome.
As a freshman at Notre Dame, John made the traveling team as the kickoff specialist. He proceeded to earn the field goal duties his sophomore through senior seasons. It was an exciting experience for John: "I loved the challenge to kick against exceptional programs like USC, Penn State, and Miami," he said.
John had an outstanding career at Notre Dame. His 51 field goals remain the most in history. Despite John's talent and track record, it wasn't easy for him to make it into the NFL. He went undrafted and it took him three years to break through and make an active NFL roster for the regular season. Reflecting back, John said, "The long road paid off. I had an opportunity to work my craft and get better and stronger and more serious about becoming an NFL placekicker."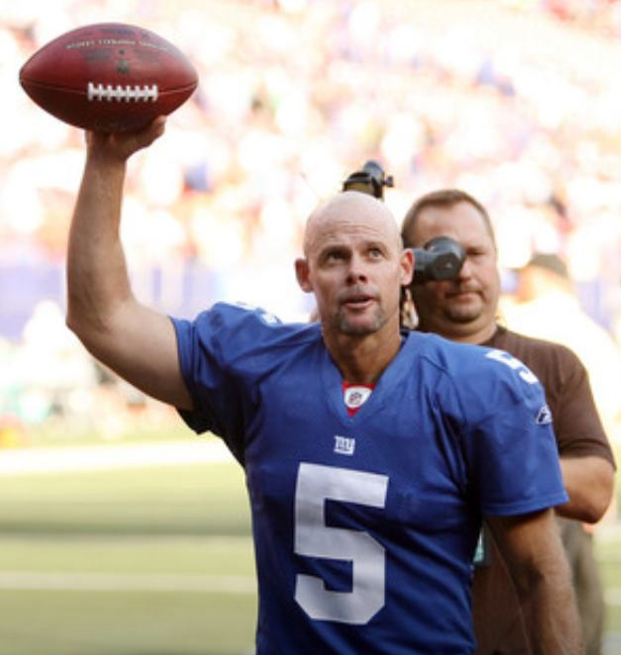 Historic and Fulfilling NFL Career
As a professional, John continued to thrive. He played for seven organizations over his 23-year NFL career, which spanned four decades. John was on a Super Bowl Championship team, a team that lost in the Super Bowl, and a team that nearly lost every game in the regular season. He was teammates with countless men who became genuine friends. He was a fan favorite in the cities in which he played and continuously earned the respect of his teammates and opponents. We discussed some of John's most memorable experiences over his historic career. There were two that he highlighted above the rest.
Raising Hope for a Devastated Community
In 2005, while John was a member of the New Orleans Saints, Hurricane Katrina devastated the region. The proud city of New Orleans was hit especially hard. Many people lost their homes and their jobs, and some lost their lives. Entire neighborhoods were destroyed. Saints players and coaches were all affected by the destruction. The first game of the regular season was against the Carolina Panthers, who had been chosen to win the division. John recalled, "We go into Carolina limping from the hurricane and everything we were dealing with mentally and what the city was going through. We end up winning that game on a 47-yard field goal." Note that John says "we" when he refers to making field goals. In perhaps the most individualistic and in some ways lonely, pressurized position in team sports, kickers sometimes get credit when they nail big kicks and always get blamed when they miss. But when John succeeds, he gives credit to the team as a whole.
After John hit the winning field goal, he graced the cover of Sports Illustrated. It was one of those "bigger than sports" moments, transcending a game and helping to uplift a community. John said, "It was really exciting because there was so much emotion and a lot of people going through some tough times in the Gulf South. For them to see their Saints win a big game to start the season lifted a lot of spirits. We got to visit a lot of the displaced citizens of New Orleans the following week in shelters in San Antonio, and they all talked about watching the game and how excited they were about the win."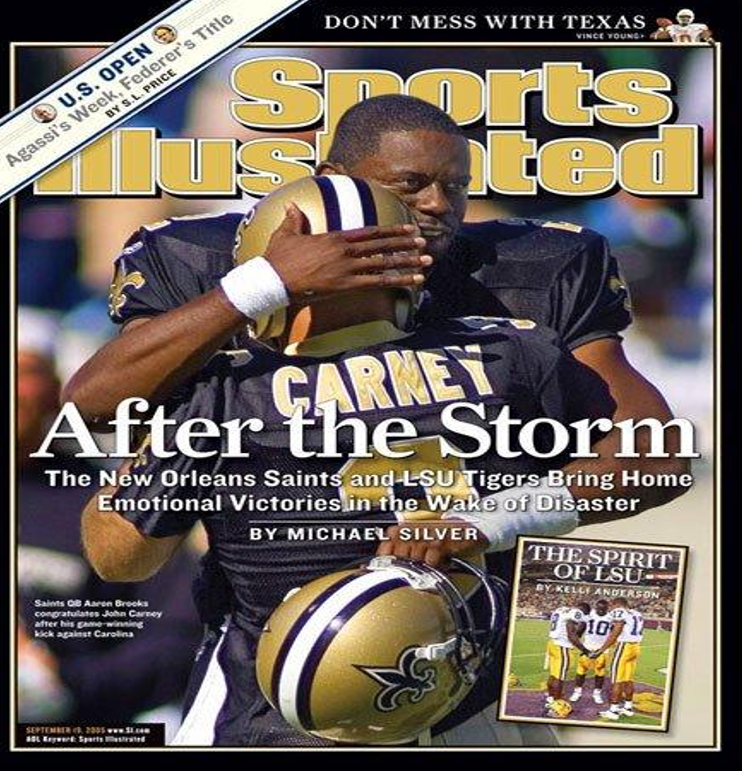 John on the cover of Sports Illustrated after the Saints win following Hurricane Katrina
Playing To Avoid Making History
As fans, it's easy to sit back and think that players do not care when they are out of the playoff hunt. John shared his experience as a member of the 2000 Chargers, the worst season of any team for which he played. This provides some insight into what teams deal with during down seasons. Of all the years he played, and all the games he played in, and all the kicks he made, the most memorable moment for him was while playing on that Chargers squad.
"We were 0-11 and it looked like we may be the first team in NFL history to go 0-16," John recalled. [Note: The Detroit Lions later marked the record books by going winless in 2008.] He continued, "Six games into the season, no one cares about you and even the beat writers are taking long lunches and not really bothering much to come around. And then when you're 0-11, the media gets excited because you could be the first team to go 0-16. They interview the team and ask how it feels to be 0-11 and headed toward 0-16." John talked about the immense pressure each of the coaches and team members faced: "That monkey on our back was becoming a gorilla."
John's Chargers hosted the Kansas City Chiefs in their twelfth game of the season. Down two points with time running out, John kicked a 52-yard field goal to win the game. They were not going down in history after all. "In the locker room after the game, there was as much excitement, if not more, than when I was with the Chargers when we beat the Steelers in Pittsburgh for the AFC Championship to go to the Super Bowl. Both those locker rooms were filled with jubilation, excitement, guys smoking cigars, and guys crying."
Pro Bowl Participant at Age 44
John holds the record for oldest player to play in a Pro Bowl. I couldn't help but ask him what it was like to play with guys who were young enough to be his sons. Chuckling, John said, "It was a lot of fun. I got to share that moment with Jeff Feagles [a fellow Giants teammate at the time] who was probably the second oldest player to go to the Pro Bowl. The NFL has a way of bringing players together regardless of age or faith or creed or culture or socioeconomic background. When you put on the same helmet and the same jersey, everyone becomes a true teammate and a true friend. I've made some wonderful relationships with men that come from different backgrounds, different faiths, different countries." John played professional football until age 46.
Coaching Others After His Playing Days
In 2009, while playing for the Saints, John briefly took on the role of kicking consultant for the team. He demonstrated an ability to mentor and lead others. After he retired in 2010, John began working with collegiate and professional kickers and punters to help them perform at a higher level. John travels to coach players, but does most of his coaching at Carney Training Facility (CTF) in Carlsbad, California.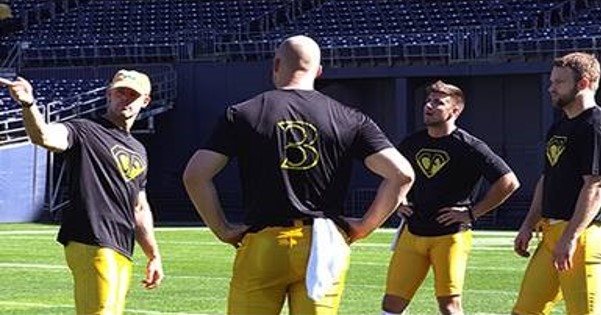 John leading CTF kicking and punting clients
John has learned a lot about kicking and punting from his NFL career and enjoys passing on that knowledge to young players. At CTF, he often has NFL players join his training program to fine-tune their game. John said, "Most of the clients who visit us are surprised at how hard we work and how long we work every day. I always ask the NFL kickers and punters that come into town to train with us 'Have you been working out? Have you been training? Are you in shape?' and, of course, they always say, 'Yes, I've been working hard.' After about the second day, they turn to me and confess 'I haven't been working this hard.'"
John's clients have rigorous training Monday through Friday, with each day serving a specific purpose. John's approach is to provide a complete training program that encompasses strength, power, agility, balance, explosion, and flexibility. While many of these areas are focuses for NFL teams, John said, "I think most NFL players don't address balance at all and flexibility gets only a cursory look." But, not at John's training facility: every area is given attention and when players aren't succeeding in a given area John notices and addresses it.
Kicking Ain't Just About Legs: The Core is Key
The common sports fan could easily think that kicking and punting each merely require a strong leg. This is wrong. Just as baseball, tennis, and golf swings aren't about only strong arms. To perform well as a kicker or punter one must have a strong body overall, starting with the core. John said, "We can't stress the core enough in our training. I talk about engaging the core during the course of a kick or a punt and how the core needs to be engaged throughout the entire kicking and punting process." And he means it. He has his clients working their cores: "When we're working our core, we work our lower core, mid-core, upper core, we're doing twisting motions," John said. "You can never underestimate the value of the strength and flexibility of our core."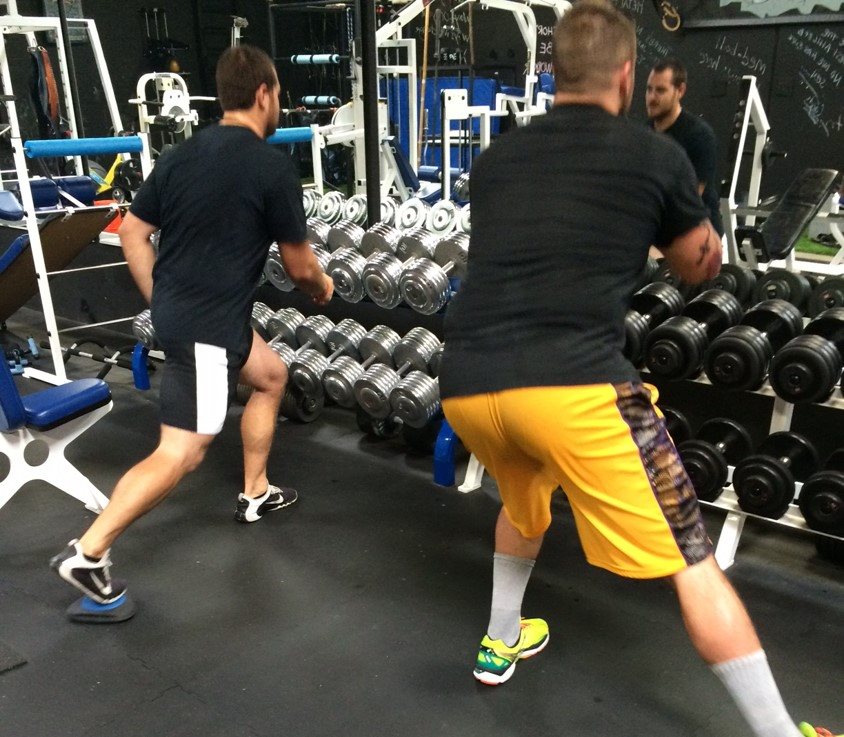 Two of John's clients using Core Flytes at Carney Training Facility
John is constantly adapting his training approach by identifying new techniques and exercise equipment. John has been using Core Flytes with his clients since the beginning of 2015. "We use the Core Flytes for our legs, our arms, and of course, our core," John said. "Everybody seems to love them." Saints Head Coach Sean Payton asked John to join the team this past mini-camp to help mentor and train the younger players. John introduced his new training tools with the Saints coaches and players. "The first time I brought the Core Flytes to the New Orleans Saints, they fell in love with them and started creating new exercises that even I haven't seen." The Saints are now using Core Flytes as part of their training program.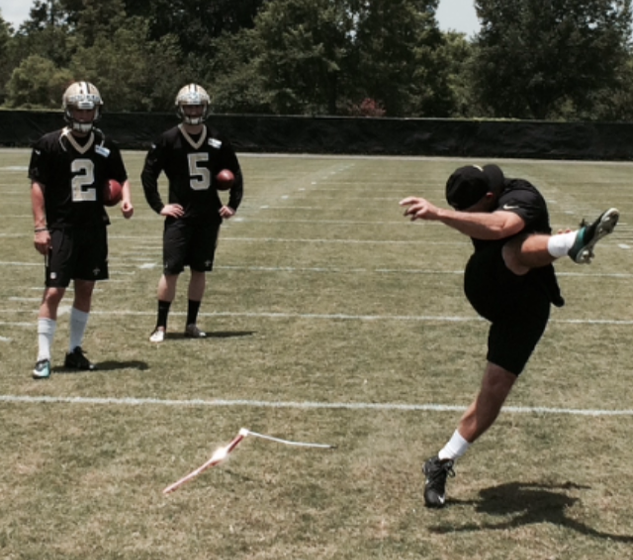 John demonstrating his kicking prowess while coaching the Saints in mini-camp last summer
Friendship with Steve Weatherford
Steve Weatherford, our Flyte Fitness partner, is a very close friend of John's. Steve named his eldest daughter "Carney" as a tribute to their friendship. Like John, Steve went undrafted. Steve entered the NFL in 2006 with the Saints during one of John's stints there. John reminisced on his early impressions of Steve: "Steve was very athletic and very high-energy. I remember one day in practice we both had full gear, including our helmets on, and he stood there right next to me and did a backflip and landed on his feet. I was like, 'I'm in about my fifteenth year in the NFL and I've never seen that before!'"
John mentored Steve and they developed a strong bond as they trained together. "Steve is very motivational to work out with. He never wanted to quit in the weight room or when we were running. That was inspirational to me," John said. Steve and his family have spent the off-seasons in San Diego as they train together. "We challenge ourselves each summer to push ourselves even harder and come up with some new training techniques to scratch the surface of our potential," John said. "As we did that, some of our friends from around the NFL started to notice and started to join us in the off-season."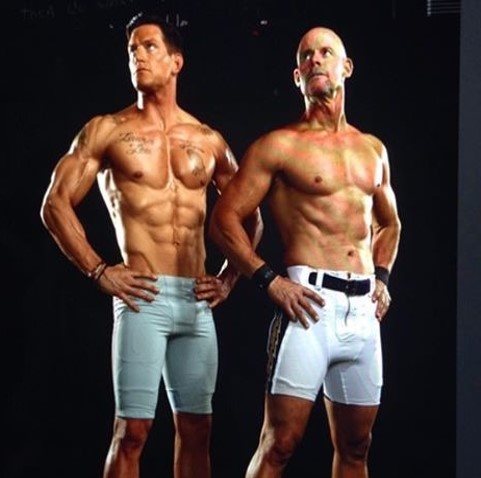 John showing off his physique along with 10-year NFL veteran and fitness fanatic Steve Weatherford
Staying Fit While Coaching
It's very common to see sports coaches, including trainers, who are not in great shape themselves. John is not one of those guys. He values his health and athletic performance, making them a priority in his life. Part of the motivation behind this passion comes from what he learned through his ability to have a long career. John explained, "Late in my career, I started having to pay more attention to my nutrition, flexibility, and how to recover more quickly. That's a big factor as you get older as your recovery time takes longer."
Now that he's leading kickers and punters, staying in shape is important to him because it allows him to be a better teacher. "I love to challenge my clients and I like to train with them," John said. "I'm a better coach when I train with them than when I stand there with a whistle and a clipboard just telling them what to do. It's most beneficial if I try to compete with them. And it inspires me to improve my game."
John is a first-time nominee for the Pro Football Hall of Fame Class of 2016. Voting is now in progress.
We'd love to hear from you. How has John inspired you? Comment below or on our Facebook page, or tweet us at @flytefitness.
Be Flyte Fit,
Jeremy Greenberg
Co-Founder & CEO
Flyte Fitness
P.S. DON'T FORGET TO SIGN UP FOR FITNESS UPDATES! CLICK THE BOX AT THE TOP OF THIS PAGE!